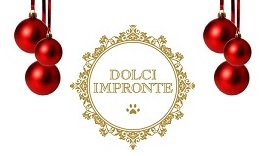 Also for this new Christmas, Dolci Impronte® presents its masterpieces.

High quality complementary foods for pets, made in Italy - by hand one by one - in the Dolci Impronte® laboratory by our pastry chefs.

Our articles are therefore always slightly different from each other and this makes them even more exclusive.
Shipment taks average 7 labour days.
Complementary food for pets.
Serve at room temperature at a rate of 10% of the daily ration of the daily diet with plenty of fresh water.
Keep in a cool and dry place. Preservation time before opening: 8 months from the production date. Leavened: 90 days from packaging.

Made in Italy by Dolci Impronte srl Aut183 / 2005: 0088901 / 16- (MO)
for
Fifty srl Venice Piva 03887230278
For information see contacts on the Home Page.